INQUIRY: DiDi – a service provider that facilitates people's movement.
As the company enters the Russian market, its new yet scattered global team must be introduced to each other and get interconnected. Working language: English.

GIVEN:

International team
70 employees
Participants from 4 countries (Russia, Mexico, UAE, China)
The participants had never interacted with each other before and were not yet familiar with each other.

SOLUTION:
We invited everyone on a virtual flight with DiDi airlines – Welcome on board DiDi 2212 – to go on a trip to Venice. The trip was designed to bring the team together, foster communication between team members and celebrate Christmas and the New Year together.

ROAD MAP:
Step 1 - Boarding.
Acquaintance was created with fellow travelers through the online world map. The participants could see from which cities, countries and continents they all came from on that plane and decide where they would all like to go together.



Step 2 - Fly to Venice and meet your guide.
The wonderful guide Anna live-walked the participants along the streets of Venice while continuously maintaining dialogue and interaction with them. She taught them Italian gestures and introduced them to Italian Christmas traditions.
After that, the participants talked in groups and got to know each other through sharing their homeland traditions.
At the Venice bookstore, the participants created a joint library of useful books which was then handed over to the company.
Then, the team dropped in to visit the Venetian aristocrats, asking questions and talking to each other.
In the end, the participants exchanged their wishes and thanked each other for the work done. They also listened to the opera and had a cocktail party with memorable pictures.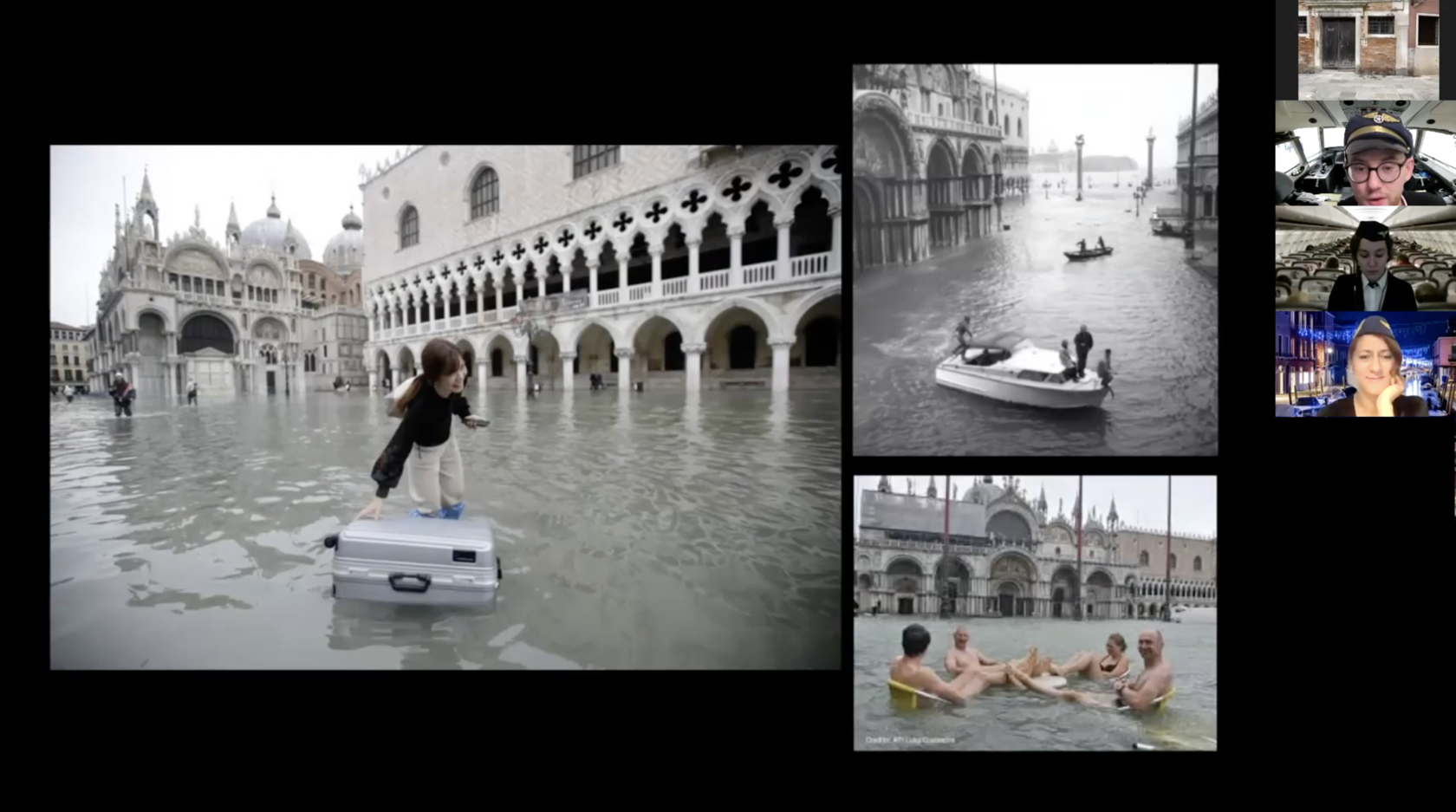 Step 3 - Return home.
Sharing their impressions of the trip, the participants "landed" home, feeling a little closer to each other than before.

RESULTS:

The participants got to know each other in a very creative way and shared a pleasant common experience.
The participants got the experience of engaging in online interaction with each other.
The participants got the experience of an inspiring corporate online event. 91% of the participants remained until the end of the event.